With the revival of "Redwork embroidery" as a popular form of quilt design, you know I had to figure out how to combine this with my passion- applique! The result is a collection of designs combining "Damask-like" flowers with Redwork embroidery highlights. Included in the twelve patterns are six different rose motifs and six floral motifs, like pansies and lilies.
As with most of my inspiration, it started mainly over a piece of fabric... In this instance a beautiful piece of blue and white floral toile! So, how did it get to be "Red" you ask? Well, the French style, rose toile, (really from Japan), happened to come into the quilt store in red, brown and blue. It was such a pretty fabric and I fell for it immediately-
I of course started my sample in the blue and then realized most people associate Redwork with the color red..... This, of course, meant that I would then restart the blocks in the red toile, so it would not be too confusing.... but of course, it has become more confusing because now I have some of the blocks completed in one color- red, and some in the other- blue...
Close-up Photo's & Online Ordering
on page 2.
Printable Order Form- here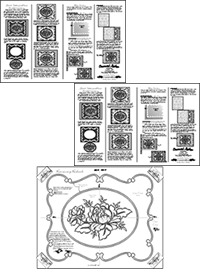 Each pattern includes a full size pattern- including the stitching lines for the embroidery accents, supply list for the block, the quilt, and the pillow, (depending on what you decide to make), embroidery stitch guide and general instructions for assembling the block.