There are a few quilts that I would like to share, some I have made and some close friends have stitched.
It is probably evident that I love applique, especially Baltimore Album quilts. The wallhanging below, I made twice.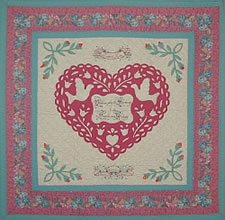 The first one was made for my best friend when she adopted her baby girl. Can you believe she wouldn't let me borrow it for a class and so I had to stitch a second!

The grapevine wreath below was made as a commission piece. I never wanted to see another appliqued circle after completing this wallhanging!