Welcome. It has take a long while..., (slightly more than I expected), but welcome to the debut of the Ornamental Applique's new web site look! This new layout is full of all the information and applique designs that you are accustomed to seeing, but with lots of valuable additions---
You will still find all the current applique Pattern Collections available, with more information than ever and even a convenient online shopping cart.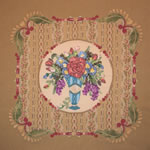 **New**
Rhapsody (Volume1)
Many new applique designs are ready and additional ones will be coming soon! ( I have not been loafing while you have been waiting to see the new designs). These newest designs premier in a new soft cover "book" format. Unlike individual plastic pattern packages, this will allow for less repeat of information pages but the same high quality of instructions and full size pattern sheets. And if you still need to see even more ideas for the quilt designs that are coming soon- visit the Studio for your first peek at the newest creations.


And there is more…. In addition to the applique patterns, you will now find a selection of my own Hand Dyed Fabrics and Silk Ribbons that you previously could only purchase when I was traveling. After many requests, the "tie dyed" cotton sateen, China silk, silk Charmeuse and silk velvet are now available online. Frequently, within my quilts you will find dimensional flowers and "fussy cut" applique using all these luscious fabrics adding the vibrant watercolor look and rich texture. Take a look and see my suggestions for how to incorporate them into your applique.